Wheeling, WV – January 13, 2014 – Wheeling businesses teamed up to deliver over 400 gallons of water to residents of southern West Virginia affected by Thursday's chemical spill. On Friday, Direct Online Marketing President Justin Seibert drove a truck provided by WheelingTruckCenter to transport the water to several Charleston non-profit organizations.
The local Wheeling response moved quickly. According to WV Media Editor Ann Ali on her verified Twitter account, "[Y]our water supply may have gotten here even faster than the 'official' shipments."
Seibert and his daughter, Clare (8), delivered the water to the following locations:
Manna Meal, a soup kitchen in Charleston, WV, that serves over 400 meals per day to anyone who is hungry at no cost, 7 days per week, 365 days per year
YWCA Charleston, one of the largest social service networks in the area serving Kanawha, Boone, and Clay counties
The Kanawha/Charleston Humane Association, which promotes the humane treatment of animals in the county
In addition, deliveries were made directly to individuals, including those with ties to Wheeling area families.
WheelingTruckCenter donated the use of a box truck, fuel, and money for the water. Various local individuals contributed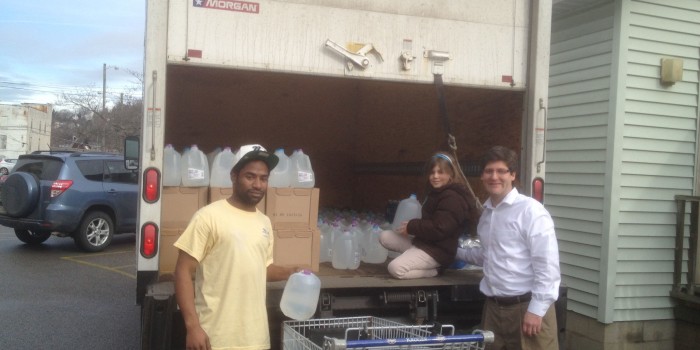 money to support the effort. The majority of the water was purchased from WalMart of St. Clairsville, who donated several cases of water as well.
Seibert is part of the West Virginia Early Childhood Planning Task Force appointed by Governor Tomblin.
"I was scheduled to go to Charleston for a task force meeting," Seibert said. "Hearing the news about the clean water shortage, I wanted to help. Chad Remp immediately volunteered to assist with the transportation, and things just went from there."
"Our thoughts are definitely with the residents of Southern WV," Seibert said. "We're eager to do anything we can to help. We've found the generosity of our local community and of the state to be incredible."
About Wheeling Truck Center
Wheeling Truck Center is a full service Volvo Truck dealership located in Wheeling WV. The company was founded in 1933 and is currently owned and operated by Ronald Remp (3rd generation) and Chad Remp (4th generation). Learn more at http://www.wheelingtruck.com or www.Class8TruckParts.com
About Direct Online Marketing
Direct Online Marketing is the oldest and largest Internet marketing agency in West Virginia, carrying agency certifications from Google and Bing. The company offers pay-per-click search engine marketing, Search Engine Optimization (SEO), social media advertising, and display advertising to clients around the world. Learn more at http://www.directom.com or by calling 800.979.3177.