CHARLESTON,W.Va.– Gov. Earl Ray Tomblin presented the Governor's Commendation for International Market Entry to representatives of 49West Virginia businesses. The award honors companies that have successfully exported to a new country in the past year.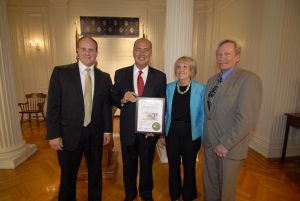 Gov. Tomblin joined the West Virginia Export Council and the West Virginia Development Office on June 22 to commend theWest Virginia companies.
"West Virginia businesses are competing in today's marketplace, whether it is around the corner or around the world," said Gov. Tomblin. "Our businesses, big and small, are succeeding in expanding their sales horizons to new markets, creating and retaining jobs here at home."
West Virginia's exports in 2010 reached a record level of $6.4 billion. The state's 2010 exports grew by 33 percent over the previous year, outperforming theU.S.export growth rate of 21 percent.West Virginia's all-time-high performance exceeded its previous record of $5.6 billion, set in 2008.
This award is based on the tradition of displaying the first dollar a business earns. The Governor's Commendation for International Market Entry frames currency from each new country to which the recipient business began exporting in 2010.
The 49 companies being honored this year matches the previous record set in 2009. Since its inception in 2002, the program has presented a total of 1,123 awards recognizing sales to 148 countries.
Commendations were handed out to local companyWheelingTruckCenterfor exporting to 55 countries in 2010.
WheelingTruckCenteris a family owned truck dealership in Wheeling that began exporting trucks and truck parts in 2010.  The award was presented to Chad Remp operations manager and 4th generation, Mary Alice Remp vice-president, and Ronald Remp President and 3rd generation.
"We are proud to receive this award for our efforts in exporting truck and truck parts into 55 countries in 2010.  Wheeling Truck Center has expanded from a local and regional supplier of trucks and truck parts to a national and international company" said Chad Remp.